Best companies in technologies
According to Fortune magazine one edition this month, technology companies Samsung and Apple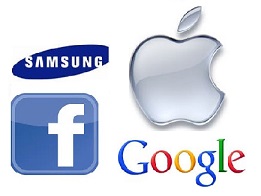 are with the world's largest companies in the fundamentals, called Global 500 and published by CNN.
In front of the oil companies continue taking the lead followed by the Royal Dutch Oil Wall Mart Stores, while Samsung appears only in 14th place, with 178.6 billion dollars, five places ahead of Apple in revenue.
As regards profits, oil companies still follow the biggest profit of Royal Dutch, the following Exxon and China National Petroleum.
.
But as to the value of brands, data Best Global Brands, Apple and Google surpassed Coca-Cola, their values ​​estimated at 98.3 and 93.3 billion dollars, since the brand value of the refrigerant has 79.2 bi , but after IBM and Microsoft with 78.8 billion to 59.5 billion value.
The negative surprise is Facebook who occupied the position of 69th. ranking of brands and rose to the position 52. which is still negligible considering the enormous influence that have particularly among young people.
So technology companies follow appreciating and are important when it should think about the future and new developments in the sector
Deixe um comentário
Você deve estar Logado para postar um comentário.