The advantage of being visible
Facebook has decided to disable a privacy feature that allowed users to restrict who could find by searching their profiles within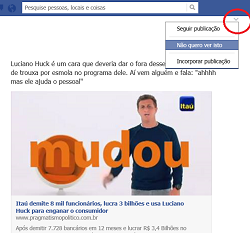 the social network , while announcing a search engine competitor to Google (see note at O Globo) , so the question is visibility , unlike good movie " the advantage of being invisible " that discusses today's teens .
Last year , many netizens had already disabled , but she allowed users to use them to bisbilhotas profiles and relationships in the social network without being known , is what makes many government agencies (see previous post ) .
The Facebook justified this removal percentage stating that " single-digit " of about 1.2 billion members who used the feature , but the fact is that this profile could be used for invasion of privacy , crimes and "security " .
Users can continue to protect your privacy by limiting the public will have access to your posts ( just friends , certain groups or all users , for example) and can also prevent unwanted posts and give your opinion about negative campaigns that have invaded the network and also tags unwanted .
We remind users of the " face" that can become invisible campaigns that denigrate the image of someone , or simply imprint fundamentalist nonsense , there is a tool on the side of each post to make these things invisible
Deixe um comentário
Você deve estar Logado para postar um comentário.