Moto G, it Moto X cheap
The company created a website "teaser" special for the launch of the Moto G, and the users who sign up will know more about the Moto G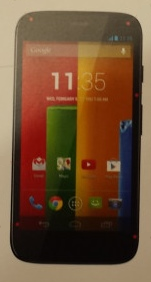 and will accompany the launch live on November 13, Wednesday Monday.
The bet is an inexpensive device whose processor is speculated to be a quad-core Snapdragon CPU with 1.2 GHz and 8 GB of internal memory.
The camera has 5 Mpixel resolution, but all of these data are still speculative, the screen may be 4.5 "1280×720, using Gorilla Glass.
Rumors arose because in September, the FCC (Federal Communications Commission) and Brazilian Anatel had already approved a new device from Motorola called DVX, in three versions: XT1032, XT1033 and XT1035.
But Brazilian Anatel approved only the first two smartphones in this line.
Deixe um comentário
Você deve estar Logado para postar um comentário.