10,000 people died in the typhoon
A typhoon that hit the entire coast of the Philippines killed more than 10,000 people, and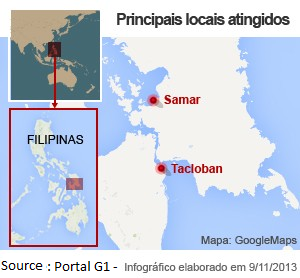 now the country may have problem water and food .
Amid the rubble of the city airport Tocloban , the hardest hit , it set up a makeshift hospital where patients are treated without anesthesia and to a lot of people are desperate to leave the region .
The Hurricane Haiyan , accompanied by winds of up to 315 km / h , recalled the destruction caused by the 2004 tsunami in Asia .
According to Sebastian Rhodes Stampa , head of the UN team in charge of disaster management " presented great destruction ( … ) The last time I saw something like that was during the Indian Ocean tsunami " that left 220,000 dead in 2004 .
In Samar , the gateway to the typhoon in the country on Friday , confirmed the death of at least 300 people in the small town of Basey , and other 2000 are missing across the island , the typhoon will now toward Vietnam although lost strength.
Deixe um comentário
Você deve estar Logado para postar um comentário.