Tablets continue winning PCs
Study done by consulting firm IDC released this Wednesday ( 4/12 ) indicated that PCs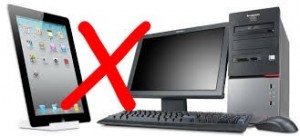 (personal computers) sales continue to plummet in Brazil , comparing the third quarters of 2012 and 2013 was 15%
In the same period there was an increase in the marketing of tablets coming to 134 % and the tablets were excluded from the category PC , considering only desktops and notebooks .
In the third quarter of this year were sold in Brazil about 3.4 million personal computers (excluding tablets), these 61% were laptops ( notebooks ) and 39 % , desktop computers (desktops).
Between July and September this year, were sold in Brazil 1.8 million tablets despite growth in comparison with 201 , there was a decrease of 2 % compared to the previous quarter.
The forecast for the fourth quarter is an even greater volume volume in the year , with 2.6 million units sold , making it a lock in with 7.9 million tablets, indicating growth of 142 % compared to 2012 .
The outlook for 2013 is to exceed the volume of 10 million tablets .
Deixe um comentário
Você deve estar Logado para postar um comentário.