New version of Kindle Paperwhite
Since Wednesday ( 11/12 ) the new version of Kindle Paperwhite reader is on sale at Amazo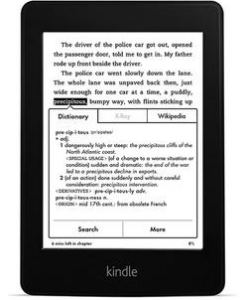 n online store in Brazil and in several resales various points of malls and stores authorized.
Battery With high durability , range of up to eight weeks of regular reading and weighing only 213 grams and a faster processor , the new version has screen with higher contrast and LED lighting, has Wi – Fi connection and memory that can store up to 1000 books .
Now the device is connected to the Wikipedia dictionary and also the X- Ray , plus a quick reference of vocabulary terms learned while reading .
The Wi – Fi with 3G version comes with free 3G internet plan.
But the launch is a contrast with the overseas release of the new Kindle Fire tablets HDX , with a 7 inch screen and another with 8.9-inch screen, lighter and more powerful than the previous generation of Kindle HD , and come with storage capacities of 16 GB , 32 GB and 64 GB .
In the online store Amazon in Brazil has 400,000 eBook titles.
Deixe um comentário
Você deve estar Logado para postar um comentário.