Quoted for the Oscar 2014
A film that has made many critical accolades director Alfonso Cuarón 's Gravity , the box office has surpassed U.S. $ 207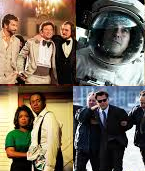 million, and should be among the nominees , as says  Adoro Cinema site .
A fourth adaptation of the Great Gatsby , F. book Scott Fitzgerald . (the others were 1926 , 1949 and 1974) The Great Gatsby tells the story of aspiring writer Nick Carraway (Tobey Maguire starring) coming out of the Midwest and goes to New York in the spring of 1922 , in the midst of an immoral was at the apex of jazz, drunkards and the exorbitant actions , tells the story of the mysterious and partying millionaire, Jay Gatsby ( Leonardo DiCaprio ) , his cousin Daisy (Carey Mulligan) and her philandering husband and blue-blooded , Tom Buchanan ( Joel Edgerton ) .
12 years of a slave, was the first film to emerge as absolute favorite for a Oscar, but the arrival on the scene of criticism can change the game and American Hustle (David O. Russell ), both with 7 nominations in the main categories likely .
Run out movies Butler as best director ( Lee Daniels ) , Best Film, Best Actor (Forest Whitaker) , Best Supporting Actress (Oprah Winfrey) and Captain Phillips , which tells the history of an American ship captain Richard Phillips ( Tom Hanks ) who is assaulted and taken hostage by Somali pirates , and the American patriotic taste.
The Oscar next year is being called " Oscar Buzz " , forecasting indicated that commenced with names Sandra Bullock (Gravity) , Tom Hanks ( Captain Phillips ) , Oprah Winfrey (Butler) , Meryl Streep (August : Osage Country) and Jennifer Lawrence (American Hustle).
Oscar nominees this year will be announced on January 16, 2014 , and the awards ceremony will take place on March 2, 2014 , the Brazilian animation has a tough match: The Croods, The Frozen Adventure and Me Despicable 2, but a brazilian animation has a chance;
Deixe um comentário
Você deve estar Logado para postar um comentário.