Posts Tagged 'Marco Civil'
As we discuss security and privacy in not new Brazilian law , the right of citizens to preserve and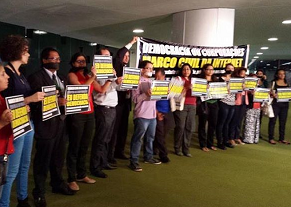 maintain their data , disseminate their opinions and have a free internet, the corporation struggle to have privileges on the internet and priority access ( this means no internet neutral ) .
It was a great disappointment to see that corporate interests are prevailing , and that the few are powerful interests that will expand your interests : bankers , agro – business and the media owners , who abhor the growing power of social networks .
Ms Erundina was one of the few voices to defend the interests of ordinary citizens who have the right to have some voice from social networks , which leaves owners and media centering desire eager to return to a time that opinion was worth only to them, and also want to centralize media that is quintessential decentralized .
Laws in the U.S. were : ACTA , PIPA and SOPA, who tried to hide aspects and contradictions between technology and politics, democracy and freedom of opinion , now the internet .
Protesters from several states were to Brasilia to try to dialogue with MPs , including Bia Barbosa , who argues in the field of media , and said : " Several civil society organizations across the country are in Brasilia to dialogue with parliamentarians to ensure that there is freedom of expression , privacy and net neutrality in Marco Civil ", three key issues on the Internet .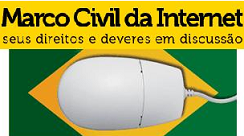 Incerto e sem saber para onde ir, o governo através da ministra Ideli Salvatti, adia o debate sobre os direitos na internet e tenta trabalhar num texto de "consenso".
Alguns admitem que haja divergências dentro do próprio governo, e um dos pontos seria a questão da neutralidade da rede, que é a de manter fluxos de dados de modo igualitário para diferentes usuários da internet, mas bancos e companhias aéreas, por exemplo, querem mais prioridade de banda.
Não é por acaso que as pressões se concentram no relator do processo Alessandro Molon (PT-RJ) e no ministério das Comunicações, que aceita a pressão das empresas da área.
Com uma sinalização confusa do governo, que já havia anunciado sinal verde duas vezes, na terça-feira passada o deputado João Arruda (PMDB-PR), presidente da comissão Marco Civil, disse logo em seguida de anunciar o adiamento (conforme o Globo), que tudo estaria pronto para a votação.
A proposta original do relator é que não haja discriminação de serviços por parte dos provedores, mas muitos parlamentares ameaçam votar em separado ou até mesmo rejeitar todo o projeto.
Outra manipulação possível, é diminuir a velocidade da conexão de serviços de voz por IP, com isso dificulta o uso de Skype e reduz a banda de o produto de uma concorrente, com isto na prática o usuário acaba tendo que escolher um serviço, e, portanto, não haveria concorrência.