Posts Tagged 'vírus'
Certainly or that we are a physical structure and DNA not always like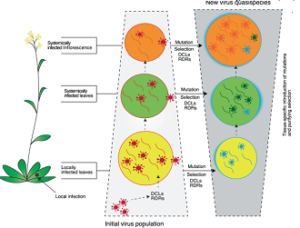 this, also our relationship with differentiated diseases and viruses, "childhood" diseases such as measles, mumps and rubella become common and a triple vaccine has become mandatory, fighting these are more common for years that in indigenous tribes and a few could still be deadly, because their physical structures are different.
Certainly something like the inorganic world that influences the physical happens, it seems scary, more trivial to say that the physical world preceded its organic year, because its origin occurred in an aortic mutation.
Man did not always exist, attested by scientific studies that homo sapiens appeared in East Africa about 300 thousand years ago (Hubrin, Ben-Ncer, 2017), was the first one back in the eastern Mediterranean 100 thousand years ago (Khan, 2015) and 60,000 years ago it was to the west, it can be passed to China about 80,000 years ago (Sherwell, 2015), therefore due to variations in fighting, physical structure and tolerance to certain events, certainly due to dietary changes , climatic and also variations in the physical structure according to the adaptation to the environment, is also logical, of the primordial structure of man formed from the physical world.
Much research on viruses affecting our previously studied foramen, such as Mollivirus sibericum, classified as a "giant virus" because it can be seen under a simple optical microscope, too, or Pithovirus Sibericum was studied by a French team from the National Center for Scientific Research French, assimilated by an "evolution" and transformation of two viruses and how they historically affect or are the home of nature, because now more and more viruses appear with different characteristics, also an aortic change, so it can also affect a nature, a physical part of the planet and also a history.
In the conflict between reason and understanding, several authors have dealt with the aortic issue from aesthetic to physical analysis, for example, used these themes Schiller and Hölderling and appropriation here, to make inferences about the inorganic (virus is not an organism) and demonstrate that the organic totality (organic holism) is not prevalent over the inorganic (aortic holism), which supposes a regime of ataxia and disorder, as well as systemic holism, the supposed single discourse that invaded sociology, Dilthey's fashion history ( Gadamer contests it) and the current polarization is nothing but systemic holism, idealism and pre-quantum physics.
By this theory of aorgic holism it can be assumed that not only can the human physical organic structure be modified, but even the structure of the planet, the retraction of activities, among them the thousands of daily trips by airplanes, the non use of Fossil fuels are already changing (for the better) the structure of seas and land, so the very structure of the planet may change, and nature as a whole will react, it may be a surprise, but nature will help us.
References
HUBRIN, Jacques Hublin; Ben-Ncer, Abdelouahed «Scientists discover the oldest Homo sapiens fossils at Jebel Irhoud, Morocco». Nature. 2017, Access: august 20, 2020. Available in: https://phys.org/news/2017-06-scientists-oldest-homo-sapiens-fossils.html .
KHAN, Amina. Discovery of 47 teeth in Chinese cave changes picture of human migration out of Africa. Los Angeles Times, Science. 14 oct. 2015, Acesso em: 20 de Agosto de 2020, Disponível em: https://www.gazetadopovo.com.br/mundo/virus-gigante-pre-historico-da-siberia-sera-acordado-6d2dtw1rz8yudoz53visogbti/SHERWELL, Phillip. Ancient teeth found in China reveal early human migration out of Africa. The Telegraph, 2015. Available in: The telegraph (private access),