The cold war is heating up
It seems like a paradox, but it is not, as the fact is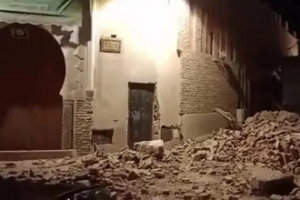 that Europe and the entire northern hemisphere are heading towards autumn and then winter and in the middle of the cold the limits of ideological polarization seem to go beyond, new weapons, narratives of victories on battlefields, etc.
Not even the tragedy in Morocco (photo), despite the condolences, seems to awaken a greater feeling of solidarity among the people, sub-Saharan Africa itself is heating up with coups and new military dictatorships.
The expansion of the Brics economic bloc also strengthens this polarization, despite the G20 meeting, a more diverse bloc, the possible creation of a new currency and new geopolitics point to a conflict that has already resulted in coups and authoritarian regimes, it does not mean that this diversification of currencies and new economic and political forces should not exist, but they should favor the diplomatic field and the establishment of peace.
On the front of the most declared battle, Russia announces an imposing weapon, not by chance called Satan II, capable of transporting several missiles at the same time without bothering with demonic names, on the front of the war a general called Armageddon, Sergey Surovikin, was sent. , who worked in Syria and against demonstrations in Russia, is now at the front.
On the side of Ukraine, whose counteroffensive is slower than expected, new weapons with weakened uranium have been received from the USA, while it trains pilots of its allies' new fighters, a more aggressive change of tactics should take place before winter.
There is a weakened peace front, the president of Turkey tried to reach a new agreement to release the grain leaving Ukraine through the Black Sea, but apparently without success and a large grain producer in Ukraine died with his family when a missile hit his house in Odessa, Olesky Vadatursky.
Propaganda of deeds in war are also growing on the Web, peace seems distant and the spirits and voices of balance and common sense seem suffocated, there is always hope and peace.