Love and divine logic
Only those who are able to overcome the limits of pain, hatred and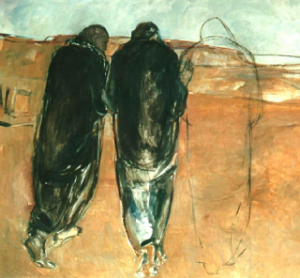 contempt can approach a divine love, it is necessary to overcome the dualistic logic of the struggle between good and evil, deo-logic is the one that always meets for good, what the Greeks called agathosyne, which comes from Agathon kindness in a high sense of spirit, and which is pursuit.
There is a third party included who walks with us.
Pain is often what hurts the soul the most, but it can also be the one that broadens it, in these moments of evolution of the pandemic crisis in the country, we face the most serious need to seek strength beyond sanitary measures, weak is true, but the The defense of life must continue in those who show solidarity with those affected by the virus.
Only by understanding this deeper sense of pain will we be able to embrace it, to have hope and to look to a future where we will no longer have to run after lost time, but prepare and anticipate ourselves to avoid even worse humanitarian crises, which may come.
There is always a third possibility and just as pain is a transition from one state to another, what can arise after much suffering is an even greater novelty, a leap in quality in what we are as men and as nature, and overcoming current stage.
Edgar Morin wrote in his recent book It is necessary to change the path: lessons from the coronavirus, in this sense as well: "The utopia of the best of all worlds must give way to the hope of a better world. Like every great crisis, like every great collective unhappiness, our planetary crisis awakens hope. "
It can thus be better understood, both in the theological and philosophical sense, in a central passage of Jesus' passion when on the cross he shouts (Mark 1,34): ". 34At three in the afternoon, Jesus cried out in a loud voice: – "Eloi, Eloi, lamá sabactâni?", Which means: "My God, my God, why have you forsaken me?", Because it is in this pain that the human and the divine become merge, emerging a new reality of death and resurrection, yes God died say the philosophers, but there is a third included: after he rose, so you can understand the passage from death to life.
All this pain, this "great collective unhappiness" says Morin awakens hope, because it is indeed a passage, perhaps the most painful that humanity has gone through, even though we have had hateful wars, even though we have conflicts of a social, ethnic and religious nature, there is a feeling of pain.
All this pain will only make sense if we find another way of looking at it right there in front.