Arquivo para March 8th, 2017
In an Annual Report on Gender Inequality in the 2016 edition Iceland is close to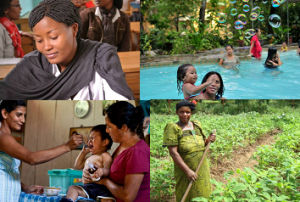 achieving full equality between men in women in the four pillars assessed (Economic Participation and Opportunity, Access to Education, Health and Survival and Political Empowerment).
As 87% of the gap is closed and this is one of the countries that registered the greatest advances among the 144 investigated by the study, curiously along with other countries with great development, Finland overtook Norway, which fell to third place and is followed by Sweden, although the relationship with development is not direct, is suggestive.
It is not direct because the 4th. Place for Rwanda (upper left photo), the 7th. Philippines (top right), the 10th. Of Nicaragua and the 12th. of the Burundi (inferior photos) are surprising, indicating other factors regarding gender equality.
According to the European Union, a study on Iceland, 77% of women are now employed (the average in the EU countries is 58.6%) and 33.7% of them have completed higher education (against 25.8% Of the EU average), we must recognize the struggle of women there, a major one in 1975 when 90% of Icelanders refused to do anything from the corporate to the family environment to attest to their importance.
The situation of Brazil is shameful 85th position of 2015, but jumped to the 79th in 2016.
But the general data in the reports are staggering, claiming that gender equality in the labor market will only be achieved in the market in 170 years, that is in 2186.
The gap between men and women is 59%, still far from being closed (100%), the largest observed in the world since 2008, that is, we walked back last year and the previous 7 years, see the 2015 report